SIGNING CEREMONY THONEH&BOOKDOC TO PROMOTE EYE HEALTH BEYOND PHYSICAL BOUNDARY

KUALA LUMPUR, October 2, 2015:Tun Hussein Onn National Eye Hospital (THONEH) will sign memorandum of understanding (MoU) with BookDoc in an effort to promoteeye health awareness in Malaysia, and neighbouring countries in the near future.

The Memorandum of Understanding (MoU) will take place on October 2.THONEH and BookDoc hope to work hand in hand to enhance and improve the outcomes for health services in the region, especially on eye specialist care, with the help of today's mobile and web technology that allows patients and doctors to be connected at all times.

THONEH is a dedicated eye care hospital with a team of specialized full-time Consultant Ophthalmologists, while BookDoc operates both online and mobile platforms that connect and unite patients and doctors.

It is wished that this collaboration could help to enhance the scale of coverage and sustainability of both parties where THONEH as a health system will have access to BookDoc's wide network of patients not only from Malaysia but also neighboring countries (via medical tourism) whereby patients can easily access the Consultant Ophthalmologists they need with just a few clicks on BookDoc.

With the expanding penetration of smart phones among the population in Malaysia, coupling with the falling cost of ownership for entry-level device, it is hoped that more marginalised groups and communities will be reached and benefit from improved accessibility presented by the joint efforts in time to come.

Dato' S. Kulasegaran, Vice Chairman of THONEH, highlighted that this collaboration is very timely and is in line with THONEH's road map to extend THONEH's eye specialist care services aggressively in the country and also to the neighbouring countries. With BookDoc, the Eye Specialist would become more accessible to the Patients with maximisation of the messaging and emailing communication. BookDoc will also assist THONEH to optimise Patients and the Eye Specialist time.

Dato' Chevy Beh, founder of BookDoc, said that he is excited to see how BookDoc could potentially change the way the public access healthcare services. One day, he hopes that waiting time to see a doctor could be reduced drastically, and that in the event of an emergency, the public know at their fingertips the nearest healthcare service that is available anytime of the day.

About Tun Hussein Onn National Eye Hospital(THONEH)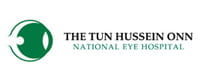 When the Late YAB Tun Hussein Onn was the Chairman of Malaysian Association for the Blind (MAB) (1975 – 1990), he realized the necessity to have a dedicated Eye Hospital which will provide state-of-the-art Eye care to the Malaysians to prevent unnecessary blinding disorders. Through his leadership and untiring work MAB managed to raise the funds on 22nd March, 1986, a soft launch of the hospital services was officiated by the late YAB Tun Hussein Onn.On March 21, 1987, His Royal Highness, Sultan of Selangor officially opened the Hospital.In March 1996, the Hospital attained National status in recognition for its efforts in Eye Care in the country and thereafter re-named the "The Tun Hussein Onn National Eye Hospital".

The Hospital not only provide affordable services to the public but is also actively involved in conducting eye screening programmes for the community and organize public forums on common eye conditions to increase public awareness.The National Institute of Ophthalmology (NIO), now known as National Institute of Ophthalmic Sciences (NIOS) which was set up in 1997 is the education arm of THONEH and consists of School of Ophthalmic Medical Personnel, School of Optometry and School of Post Graduate Studies and Research.

SOURCE: TUN HUSSEIN ONN NATIONAL HOSPITAL (THONEH)

FOR MORE INFORMATION, PLEASE CONTACT:
Name: Ms. Valerie Voon
Tel: +6019-336 6758
Email: valerievoon@bookdoc.com