BookDoc Aims 500,000 App Users By Year-End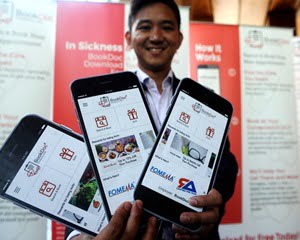 PETALING JAYA, March 3 (Bernama) — Online healthcare platform, BookDoc, hopes to increase the number of users for its mobile application, BookDoc Activ, to 500,000 by year-end, up from the current 300,000 users.
BookDoc Founder Datuk Chevy Beh was confident of achieving the target as the company was currently working together with 30 reward partners in Malaysia, which could offer various discounts for users who successfully maintained their high-level of activity.
"We hope to collaborate with 45 reward partners in the country, involved in industries such as food and beverage, transport and fashion by end of the year," he told a press conference after announcing its partnership with reward partners, Secret Recipe, Focus Point and Happy Fresh here today.
Launched in November 2016, BookDoc Activ aimed to reward users who maintained their healthy lifestyle through exercise.
For example, users who achieved average-daily-step thresholds, tiered according to bronze, silver, gold and platinum, would be offered discounts from major retailers and service providers every month.
Beh said aside from Malaysia, the app users could also receive monthly rewards from more than 40 reward partners in 12 other countries including the United States, China, Indonesia, Myanmar and the Philippines.
— BERNAMA