Unity Denticare Joining BookDoc Platform

NTUC Health's Unity Denticare bringing smile to the community through online collaboration with BookDoc

Selangor, Malaysia, 26th April – Unity Denticare, one of the major dental groups in Singapore, is collaborating with BookDoc to allow the community to search and book its dental services online. BookDoc is a healthcare technology start-up with presence in Malaysia, Singapore, Hong Kong and Thailand, and welcomes Unity Denticare to its online Search & Book platform.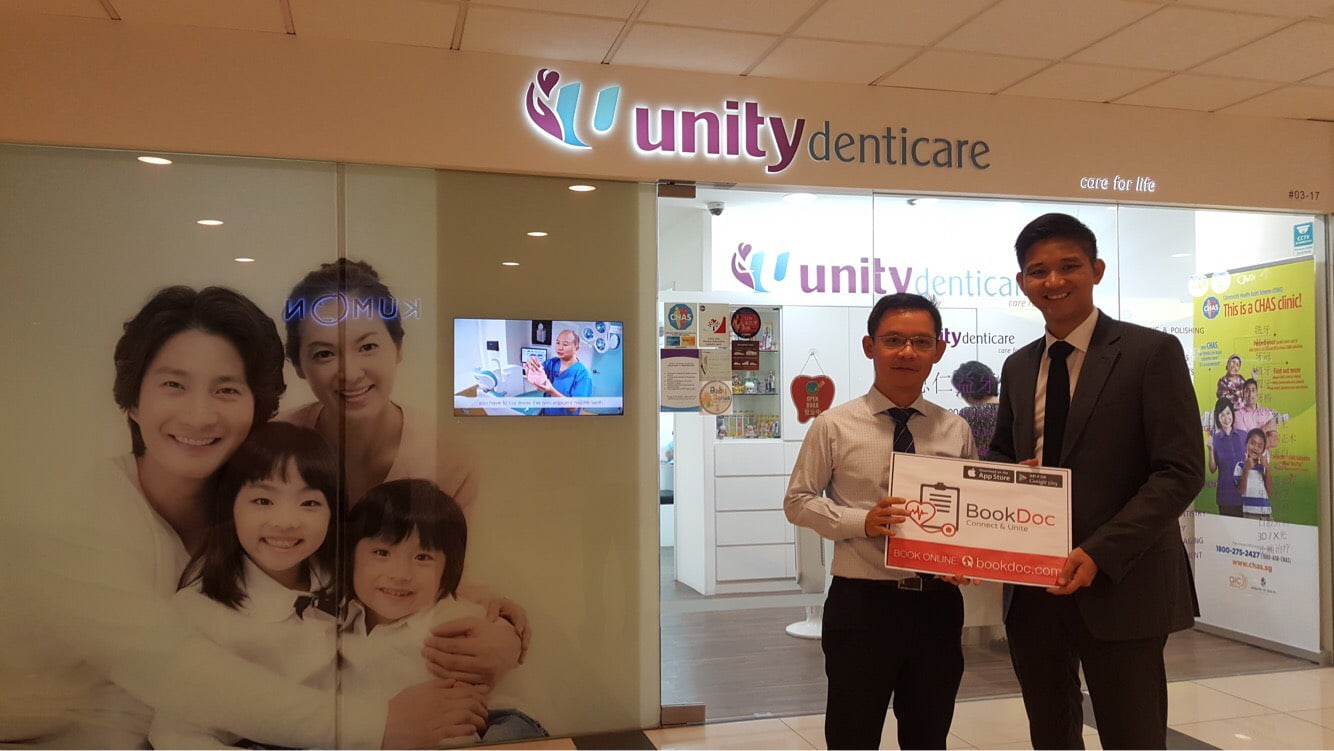 Established in August 1971, Unity Denticare's mission is to moderate the cost of dental care. It seeks to be the dental care provider of choice in the community for their oral health and wellness needs. With some 50 dentists and 19 clinics including mobile dental clinics located island-wide, it aims to improve every patient's dental health through high quality, advanced technology and holistic care. With a team of experienced dentists and specialists, it provides a comprehensive and affordable range of general and preventive, restorative and aesthetic dental services. Unity Denticare is part of the social enterprise NTUC Health, which seeks to serve working families through an integrated suite of health and eldercare services.

Head of Dental Services Mr Patrick Wong added that "Apart from our network of clinics island-wide, our mobile dental clinics also serve nursing homes, senior activity centres and neighbourhoods at various locations.In addition, Unity Denticare actively reaches out to the community to promote the importance of oral hygiene. This partnership with BookDoc is a good complement to our efforts reach out to more. It enables users to search for a clinic closest to home, review the dentists' credentials and make an appointment conveniently through their mobile phones. From the start of May, you will be able to search & book our dentists on BookDoc."

"We are delighted to play a role in the wonderful effort ofNTUC Health Unity Denticare to make Singapore a better place, especially for the intermediate & long-term care sector. Our Search & Book platform serves not only the users who want to assess health services themselves, but also those who want to book for their loved ones. After which, the users could easily locate Unity Denticare clinics on the map, navigate or hail a rideeven fortheir loved ones," said Dato' Chevy Beh, Founder &CEO of BookDoc.

"BookDoc" app is downloadable for free on Apple App Store (for iOS) and Google Play Store (for Android).Users can now access a hassle-free integrated healthcareecosystem supported by strategic partners from navigation (Google Maps & Waze), land transport (Grab & Uber), air transport (AirAsia), hotel accommodation (Agoda, Airbnb) and restaurants & attractions recommendation (TripAdvisor); as well as BookDoc Activ which rewards users for maintaining high level of physical activity. It recently welcomes a member of Dr Stanley Ho family as its latest strategic investor.

FOR MORE INFORMATION, PLEASE CONTACT:
Name: Ms. Valerie Voon
Tel: +6019-336 6758
Email: valerievoon@bookdoc.com