BookDoc The Trusted Medical Companion for Tourist Teaming Up with Swiss Garden
International Group for a Worry Free Traveling experience
Selangor, Monday,25th July 2016: Swiss-Garden International Hotels, Resorts & Inns and BookDoc, are entering into a partnership to bring healthcare accessibility to their stakeholders ; the tourists. BookDoc was recently officiated by the Ministry of Tourism and Culture as Trust Medical Companion for Tourists. It is a home-grown online healthcare platform with presence in Malaysia, Singapore, Hong Kong and Thailand, and 17 cities.
Swiss-Garden International is the first group of hotels in Malaysia to collaborate with BookDoc to introduce a stress free health platform app for its discerning guests. Under this partnership, hotel guests can access to a comprehensive searchable list of doctors, dentists, and practitioners of complementary medicine, clinics and hospitals at one's fingertips. The integrated app features a seamless interactive platform for hotel bookings and transportation for a stress free travel experience.
"It is in our best interest to promote medical tourism, making Malaysia a tourist friendly destination. With this partnership, we are one step closer in achieving that goal. We look forward to work with foresighted partners like Swiss Garden International to promote medical tourism in Malaysia. We also thank Swiss Garden International for having faith in us to be the trailblazer of the industry." said Dato Chevy Beh, CEO of BookDoc.
En Izudin Merican, Group General Manager of Swiss Garden International added that, " Swiss Garden International is excited with this new partnership with BookDoc. This will allow our guests to book for doctors' appointments, hotels and transportation with just one click. As technology continues to progress, we have seen a shift in guests requirement and travelling pattern. The app will enable a seamless stress free experience in promoting medical tourism.
—End—
About BookDoc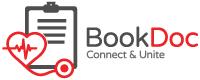 BookDoc, with presence in Malaysia, Singapore, Hong Kong and Thailand, and the vision to grow regionally, is an online healthcare platform that connects and unites patients and healthcare professionals, bringing forth timely access, resource optimisation and informed choices. The platform links those in need with those who can assist them at anytime and anywhere, in which precious time is optimised for all parties to realise the benefits of early access to care. BookDoc, backed by a diverse group of investors from entrepreneurs to seasoned healthcare and insurance professionals, banker, regulators as well as ICT professionals, has made records in achieving the highest pre-seed and seed valuation in Asia tech app history. BookDoc is available online, iOS App Store and Google Play Store.
FOR MORE INFORMATION, PLEASE CONTACT:
Name: Ms. Valerie Voon
Tel: +6019-336 6758
Email: valerievoon@bookdoc.com