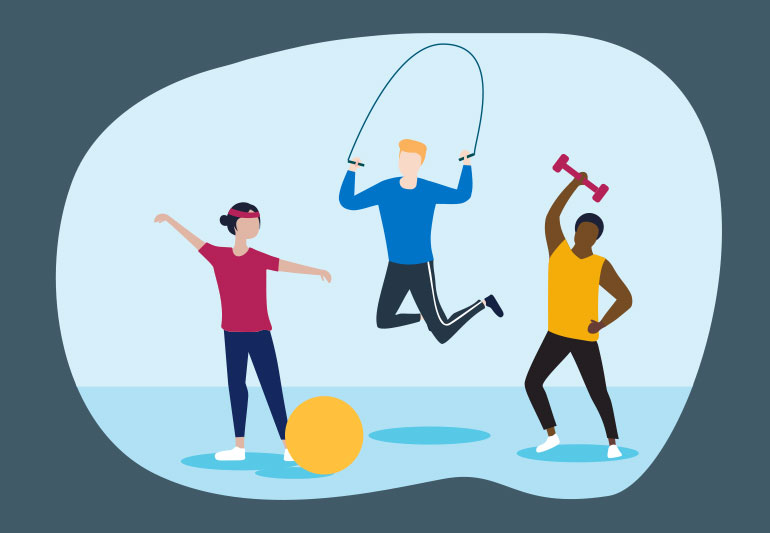 If you want to get in shape but don't want to break the bank, never fear. You don't have to invest in a costly gym membership. You also don't need to have the latest bike, wall technology, high-tech treadmill or elliptical machine. With a little effort and some innovation, you could stay in shape in the comfort of your own home. Here are some ideas to get you started:
1.Walking 
Walking for 30 minutes a day can help you lose weight, reduce stress, control your blood sugar, and lower your cholesterol and blood pressure. Can't do 30 minutes? Three 10-minute walks per day works just as well.
2. Suspension trainer (TRX)
Suspension trainers provide an inexpensive, complete full-body workout and use minimal space. These resistance exercises help you develop flexibility, balance, strength, and joint stability all at the same time. Anyone can use TRX systems.
3. Exercise balls
Using an exercise ball will help you keep your back, hips and abdominal muscles strong. It's the perfect tool for both pre and post-workout stretches. It can also help you improve your balance and agility. You can find all kinds of useful exercise ball routines online.
4. Dumbbells or kettlebells
Dumbbells and kettlebells can help you gain strength or maintain it. Start with the weight range that works best for you without straining too much. When you feel ready, increase the load or workout time. Be careful, though — using weights incorrectly can lead to injury. Use your weights in front of a mirror to check your posture. If you have questions, consult an expert.
5. Calisthenics
Forget past memories of gym classes and focus on how well you'll tone your body with push-ups, crunches, squats, lunges and leg lifts.
6. Online exercise videos
When it comes to video workouts, there's something for everyone. Pilates, yoga, kickboxing and even dance. A good combination of repetition and variety is always key when it comes to sticking to a good program. Try different options and vary them to keep yourself interested.