Personal trainers often recommend lunges for lower-body workouts due to their versatility and accessibility. This exercise is favored by trainers, athletes, and gym-goers alike because it can be performed by anyone who can walk or run without experiencing any discomfort. Since lunges are compound exercises that engage multiple muscle groups, they provide numerous benefits for those who incorporate them into their routine consistently.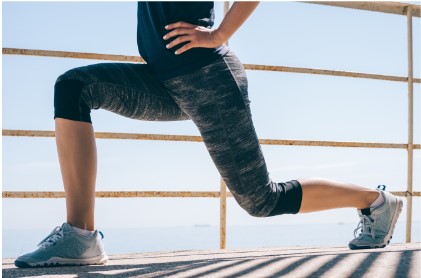 Benefit of lunges to the human body :
Helps develop & strengthen our lower body muscles
     Lunges target several key lower body muscles, including:
Glutes or buttocks muscles 

Quadriceps, located at the front of the thigh

Hamstring, located at the back of the thigh 

Calf muscles
Enhance our overall body balance & stability
Lunges actively engage the core and stabilizer muscles, leading to improved balance, reduced fall risk and enhanced lower limb function. Our core plays a pivotal role by supporting and coordinating muscles involved during lunges and even daily activities. Strengthening your core through lunges enhances stability, balance, and functional movement.
Contributes to increased flexibility of our body
Extended periods of sitting can lead to tightness and shortening of the hip flexor muscles. However, there's no need to worry because lunges can help alleviate this muscle tension and weakness. Lunges involve a wide range of motion, allowing for effective stretching of the hip flexors, including the psoas muscle. Stretching is known to enhance flexibility, and incorporating lunges into your routine can potentially increase hip flexibility and mobility.
Boost our functional fitness & athletic performance
Lunges encompass versatile exercises that span multiple categories. They serve as functional fitness exercises, replicating essential movements such as kneeling, walking, and running, thereby enhancing everyday function. By incorporating lunges into our fitness plan, we can potentially enhance our functional strength, resulting in more efficient movement during daily activities. Moreover, the benefits of improved functional strength and mobility can extend to athletic performance, leading to overall performance improvements in various athletic endeavors .
A convenient and accessible exercise option
Lunges are an excellent beginner-friendly strength training exercise, suitable for individuals of all fitness levels. The equipment-free exercise can be easily mastered, allowing us to gradually progress to more challenging movements. . The best part is that lunges can be comfortably performed in different settings at your convenience. 
While the versatile movement of lunges cater to various fitness levels, it is recommended to start with mastering the forward lunges before progressing to more advanced movements. Let's begin with customizing the pace, direction, and intensity that suits our preference and current physical condition. 
Step-by-step guide on how to perform a proper lunger:
To ensure safety and optimize muscle engagement, it is crucial to maintain proper form and technique while performing lunges. Here are some valuable tips to help you execute lunges correctly and reduce the risk of joint strain:
Maintain an upright posture with a straight upper body, relaxed shoulders, and lifted chin

Take a step forward with one leg and lower your hips until both your knees are bent at a 90-degree angle, while also ensuring proper ankle alignment.

Be mindful to not let the back knee touch the floor.

 

Focus on distributing your body weight on the heel of your front leg

.

Switch legs and repeat the process.
Reference: