BookDoc Activ Users Increased To 300,000
Last update: 10/10/2017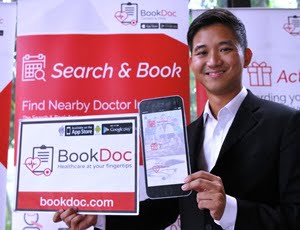 PETALING JAYA, Oct 10 (Bernama) — 'Booking Doctor' or better known as BookDoc online healthcare application users has increased to 300,000 users since the launching of its new feature, BookDoc Activ, last November.
Its founder Datuk Chevy Beh said BookDoc currently has over 50 reward partners in 12 countries which focuses in rewarding its customers for staying active.
"When we first started the BookDoc Activ, there are only about 100,000 users. We now have more than 50 reward partners including in Singapore, Hong Kong and Thailand.
"BookDoc has established an integrated online ecosystem for local and overseas health travellers. The ecosystem allows users to search and book healthcare professionals anytime and anywhere," he told reporters after signing a memorandum of understanding with Runner's World Sdn Bhd (New Balance), MBG Fruits and Aquaria KLCC here today.
Beh said with the newly joined partners of BookDoc, he was optimistic the collaboration would be able to promote a healthy lifestyle to everyone.
He further explained that it rewards users for maintaining a high level of activity by partnering with major retailers and service providers that offer users several discounts for achieving tier-based rewards determined by the users' activity level. (BookDoc Activ membership tiers are platinum, gold, silver and bronze).
Established in Oct 2015, BookDoc can be downloaded for free from Apple App Store (for iOS) and Google Play Store (for Android).
— BERNAMA