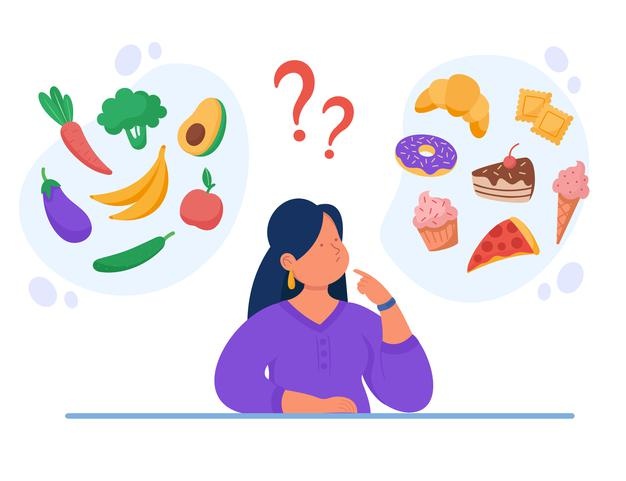 More and more people are suffering from mental health as a result of the covid-19 epidemic. Some groups are more affected than others, including health and frontline workers, students, individuals living alone, and those with pre-existing mental health concerns. Regardless of the problems, it is critical that we all keep sane in this period by talking about things and seeking help if we are struggling. In addition, eating a well-balanced diet might help you enhance your mental health. Here are some foods that you might want to include in your diet.
1. Foods that can boost dopamine hormone (happy hormone) production
Tyrosine is the building block of dopamine. Consuming meals high in tyrosine increases dopamine production, which promotes mood and reduces anxiety.
Example: Dairy foods like milk, cheese, and yogurt, unprocessed meats like beef, chicken, and turkey, eggs, nuts like almonds and walnuts, fruits and vegetables, and dark chocolate.
2. Foods that stimulate the production of serotonin (a mood stabilizer) hormones
Serotonin is derived from tryptophan, an important amino acid that controls anxiety, happiness, and mood. Low levels of the chemical have been associated with depression.
Example: Tofu & soya, salmon, pineapple, milk & cheese, meat & poultry, eggs and nuts and seeds
Omega-3 is well-known for its brain-health benefits. There are three main types of omega-3 fatty acids, which are called ALA, DHA, and EPA. Plant sources of ALA include nuts and seeds, whereas fish, seaweed, and algae supply DHA and EPA fatty acids.
Omega-3 can be obtained naturally from some food such as fish and other seafood especially cold-water fatty fish, such as salmon, mackerel, tuna, herring, and sardines, nuts, and seeds such as flaxseed, chia seeds, and walnuts, plant oils such as flaxseed oil, soybean oil, and canola oil and from fortified foods such as certain brands of eggs, yogurt, juices, milk, soy beverages, and infant formulas.
One approach to enhance your mental health is to eat a balanced diet. Staying physically active, spending time in nature, avoiding cigarettes and alcohol, and having healthy sleep habits are also important.
References:
https://www.healthline.com/nutrition/how-to-increase-dopamine#TOC_TITLE_HDR_4
https://www.purerecoveryca.com/foods-to-boost-serotonin-mental-health-mood/
https://www.aetna.com/health-guide/food-affects-mental-health.html
https://www.bbcgoodfood.com/howto/guide/what-dopamine-diet
https://www.theedgemarkets.com/content/advertise/millennials-are-most-stressedout-generation-work
https://www.mentalhealthintheworkplace.co.uk/foods-to-induce-happy-hormones/