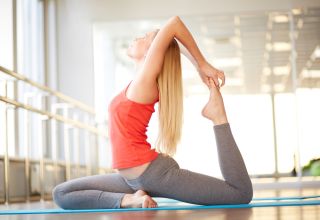 Getting yourself up and moving in the morning isn't always easy. You may find that on some days, you wake up feeling sluggish, aching and full of tension. It is potentially caused by being less physically active during the day or being on laptop for lengthy periods.
Have you thought about stretching as a gentle way to slowly awaken your body after a long night's sleep? Studies suggested that, along with other forms of regular exercise, stretching could help you relax, increase your flexibility, reduce lower back pain, and help to manage some other health conditions too.
Lie on your stomach and place your hands flat beneath your shoulders. Tuck your elbows in by your sides and gently raise your head and chest, keeping your hips and groin on the bed. If it feels comfortable, you can go a little deeper by lifting your tummy off the bed too. Remember to relax your neck and shoulders. Hold the stretch for 15-20 seconds and when you're ready, gently lower back down.
Lying flat on your back, bring one knee to your chest and hold it in position with your arms or hands. You should feel a nice stretch in your lower back. If it feels comfortable, you can also do this stretch by bending both knees at the same time..
Lying on your back, raise one of your knees, and gently roll it over to the opposite side. Make sure both of your shoulders stay in contact with the bed at all times. If it feels comfortable, stretch one arm out to the side, keeping it in line with your shoulders, and slowly turn your head to face your outstretched arm. You should feel the stretch on the sides of your upper body and your lower back. Breathe deeply and repeat on the opposite side.
Sit on the edge of your bed, with your feet flat on the floor. Interlock your fingers and reach forward, bending from your middle back. Stretch with your hands forward at shoulder level. You should feel the stretch between your shoulder blades
Relax your shoulders and gently move your left ear towards your left shoulder, using your left arm to help. Only stretch as far as feels comfortable. Hold for 15-20 seconds and slowly repeat on the other side.
Relaxing your shoulder blades back and down, reach one arm across your body and gently use your other arm to deepen the stretch. Hold for 15-20 seconds and repeat on the other side.