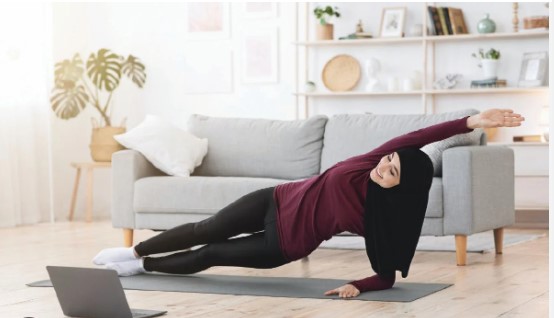 The majority from our society are having a sedentary lifestyle which increases the odds of leading a physically inactive lifestyle, excessive eating, stress, anxiety and depression in the long run. In fact, gaining extra weight may increase one's health risks for type 2 diabetes, hypertension, heart attack, stroke, and other health problems.
Here are some tips and trustable resources on how to maintain an optimal body weight, a healthy lifestyle and your overall well-being while staying at home.
Measure and Monitor Your Weight
Keeping track of your body weight on a daily or weekly basis will help motivate you on what you have achieved.
Limit Unhealthy Foods and Eat Healthy Meals
Avoid skipping meals and choose a nutritious meal with more protein and fiber while it is less fat and sugar.
Take Multivitamin Supplements 
Taking multivitamin supplement to ensure you have met the daily requirements, especially ones who have difficulties to access vegetables and fruits. Many micronutrients such as vitamins A, B6, B12, C, D, and E, as well as zinc, iron, copper, selenium, and magnesium, are vital to your immune system. However, in some cases, high doses of vitamins can be bad for your health. 
Drink Water and Stay Hydrated
Limit sugary beverages and drink water regularly to stay healthy
Exercise Regularly and Be Physically Active
Walking your dog or going for an outdoor jog during free time. At-home workout is a good alternative during bad weather.
Reduce Sitting and Screen Time
Taking breaks from sedentary time, such as walking around the office/room a couple of times in a day.
There is a strong connection between sleep quality and our body's immune function. An average of six to eight hours of quality sleep can make sure our immune system functions optimally.
Find Ways to Manage Your Emotions
It is common for people to have the feeling of fear, anxiety or sadness. Find ways to cheer yourself up and give yourself space. By talking to a friend, doing things that you love like painting, to give opportunities to socialize with others.
Use an App to Keep Track of Your Movement, Sleep, and Heart Rate
BookDoc platform provides one-stop service to track your steps, daily mood, sleeping time and meal to monitor your lifestyle and dietary habits at a glance.
In a nutshell, always keep in check your well-being state, both mentally and physically, allowing you to go on further to become the best kind of person that your potential, circumstances, and fate will allow.