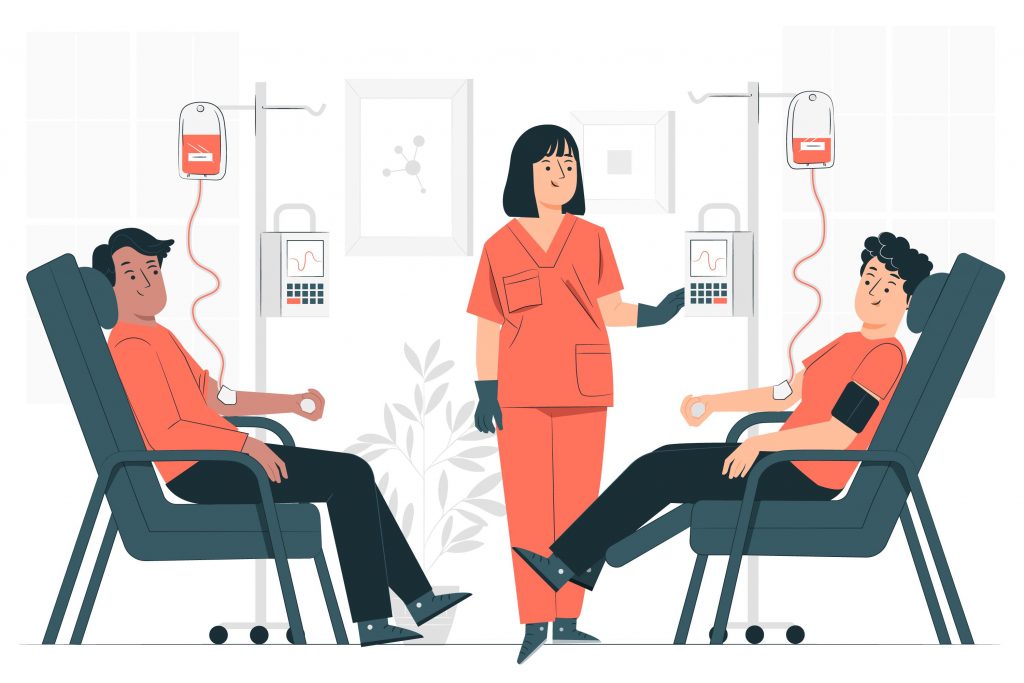 Donating blood is a voluntary act from someone willing to share their blood with the people who need it. 
Why should I donate blood?
You can save people's lives! The only source of blood is from one person to the other. Unfortunately, there is no other source! Blood can treat various illnesses and injuries. Hence, blood donors are needed to ensure there is enough blood for patients who need it.
Benefits of donating blood:
Helping people in need can bring out a sense of fulfilment and satisfaction in individuals. 
Reducing iron levels in hemochromatosis patients
Hemochromatosis is when the body has too much iron, which can cause serious health problems. They can donate blood to prevent iron buildup alongside helping people.
Decreasing the risk of getting cardiovascular disease
Not only can you help people, but you can improve your well-being. Regular checkups can reduce the risk of heart attack.
Certain medical conditions such as thalassemia and leukaemia will need regular blood transfusions, as often as a weekly basis. This is required to help them sustain their lives.
Personal information will be needed before the donation. The amount of blood that will be taken is about a pint (450 ml), and it may take about 7-10 minutes per person. Several small test tubes are also used to collect the blood for the sample, then the blood will then be sent to the blood collection centre for further processing.
The blood will be scanned, weighed and labelled with an "unscreened label" Then, the sample from each blood bag will be screened to check for syphilis, hepatitis (B & C) and AIDS (HIV).
Meanwhile, the blood bags are spun in the centrifuge. This process separates the transfusable components based on their density: plasma, red blood cells and platelets. Each component is called a unit. After the blood bags have been taken out from the centrifuge, white blood cells will then be filtered from red blood cells.
The components (platelets, red blood cells and platelets) are stored overnight. The platelet bags will be stored on an agitator.
When the test results from the screening are complete and the blood test is negative for infection, the unscreened label will be replaced and distributed to the hospital. However, the blood will be rejected if the blood test is positive for infection.
Now, let's take the step today to donate blood and leave a lasting impact on the lives of others. Your contribution truly matters, so be a part of this life-saving journey and help create a world where no one suffers due to a blood shortage.
https://www.youtube.com/watch?v=i-92Y8cK2DI
https://mysejahtera.moh.gov.my/en/blood-donation/faq
https://www.redcrossblood.org/donate-blood/blood-donation-process/what-happens-to-donated-blood.html
https://www.medicalnewstoday.com/articles/blood-donation-side-effects#benefits