This pregnancy workout makes it easy to strengthen your whole body with simple moves you can do at home.
it's important to keep moving: Pregnant women who exercise have less back pain, more energy, a better body image and, post-delivery, a faster return to their pre-pregnancy shape.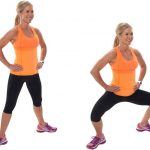 Stand parallel to the back of a sturdy chair with the hand closest to the chair resting on it, feet parallel and hip-distance apart.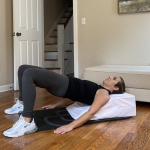 Come to lay on your back on a wedge with your knees bent, feet pressing into the floor. Relax your arms down by your sides. Press your hips up to the ceiling then lower down to a hover.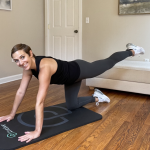 Start on all fours with a neutral spine, hands in line with shoulders and hips over knees. Keep your abdominals lifting to the ceiling so your back stays neutral. Extend one leg straight back behind you, tapping your toes to the floor. Lift and lower the leg while keeping your baby hugged into your spine, pumping through the glutes.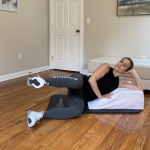 Come to a side-lying position on a prenatal wedge or a stack of pillows to keep your heart above your baby. Bend your knees so they are in 90-degree angles, knees in line with hips and feet in line with knees. Lift your top leg and flex your foot and then extend the leg straight back behind you, working into the back of the leg and glute.