Push-ups are a familiar exercise that most people have tried at some point. They may seem simple, but don't be fooled by their basic appearance. They are highly effective for building strength and targeting multiple muscle groups. While their primary focus is on engaging the arms and shoulders, they also provide intense workouts for the core and leg muscles. As a result, push-ups contribute to overall body strength and fitness. Embrace the challenge of performing push-ups and allow your body and mind to experience the remarkable transformation that awaits you!
How to perform push up correctly :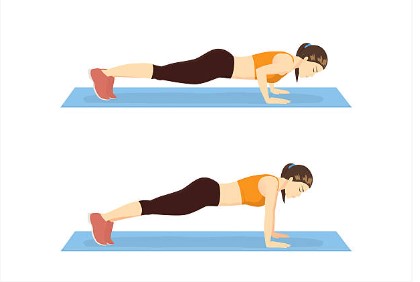 Get into a plank position with your hands slightly wider than shoulder-width apart and your toes supporting your body weight.

Keep your body in a straight line from head to heels, engaging your core and glutes to maintain stability.

Lower your chest towards the floor by bending your elbows until they form a 90-degree angle.

Push yourself back up to the starting position by straightening your arms.
Maintain proper form throughout the exercise, and aim to do as many push-ups as you can with good technique. Focus on quality over quantity to prevent injuries and maximize the benefits.
Benefits of doing push-ups regularly:
Improved muscle tone and strength
Push-ups are an excellent bodyweight exercise that can help increase muscle tone and strength, particularly in the upper body. They target several major muscle groups, which are :
Chest muscles (Pectoralis major)Shoulder muscles (Deltoid major) (Shoulder muscle)

Back muscles (Latissimus dorsi, rhomboids, and trapeze muscles) 

Arm muscle (Biceps and triceps)
Consistently performing push-ups helps build lean muscle mass.. As you progress and increase the intensity of your push-up routine, you'll start to notice a significant difference in the definition of your chest, arms, and shoulders. This added strength in your upper body will also improve your ability to lift and carry objects, making daily tasks feel effortless.
One of the significant advantages of push-ups is that they engage multiple muscle groups simultaneously. While primarily targeting the chest, shoulders, and triceps, push-ups also work the core, lower back, and legs. This means you get an easy comprehensive full-body workout without the need for any equipment. By supporting your own body weight, push-ups build functional strength that can translate into various daily activities.
Proper execution of push-ups requires engaging your core muscles to maintain a straight and stable body position. As a result, push-ups are excellent for developing core strength and stability. A strong core not only improves your posture and balance but also helps to reduce the risk of lower back pain and other related issues.
A simple exercise to do anywhere
Pushups are a straightforward and accessible exercise that demands minimal or no equipment, making them perfect for at-home workouts. Whether you're a beginner or a seasoned fitness enthusiast, push-ups offer a fantastic way to enhance your upper body strength and overall fitness without the need for expensive gym equipment. So, no matter where you are, you can easily incorporate push-ups into your workout routine and reap their numerous benefits. Additionally, they can be easily modified to suit your fitness level, making them suitable for both beginners and seasoned athletes.
In summary, incorporating push-ups into your fitness routine offers multiple benefits that extend far beyond just physical strength. From building full-body muscle tone to enhancing core stability, push-ups are a versatile exercise suitable for people of all fitness levels. So, take advantage of this simple yet powerful exercise and let push-ups become a transformative addition to your daily routine. Start with a few reps and gradually increase the intensity to experience the incredible benefits of push-ups firsthand. Your body and mind will thank you for it!
Reference :