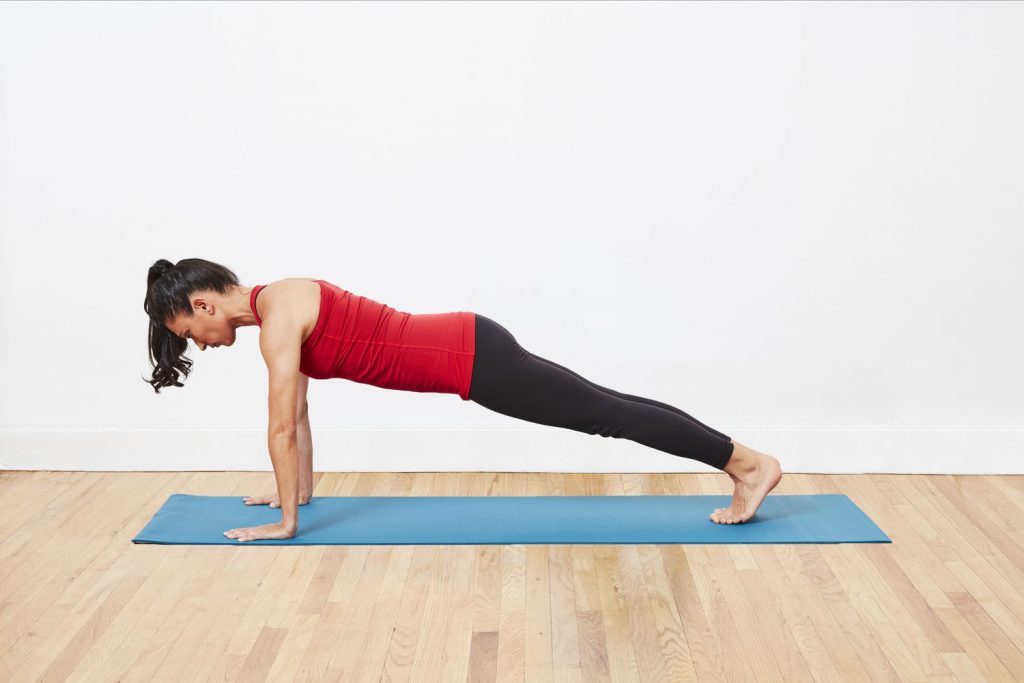 When talking about exercises, we can all admit that it's an activity we both enjoy and dislike at the same time. Among the best exercises for core and abdominal strengthening, the plank exercise stands out. The plank, a straightforward yet highly effective bodyweight exercise, demands no special gear and can be done virtually anywhere. This exercise involves maintaining a push-up-like position on your arms and toes, engaging various muscle groups for effective core strengthening.
How to do plank exercise : 
Place your arms directly beneath your shoulders, slightly wider than the width of your shoulders, as if preparing for a push-up.

Press your toes firmly into the floor and contract your glutes to establish stability in your body. Ensure that your legs are in a ready plank position, be cautious not to lock your knees or extend them excessively.

Maintain a neutral alignment for your neck and spine by fixing your gaze on a point on the floor approximately a foot beyond your arms.

For beginners, you can choose to maintain this position for a duration of 20 seconds.

As you become more advanced, you can slowly extend the duration

, most important is prioritizing good form and steady breathing.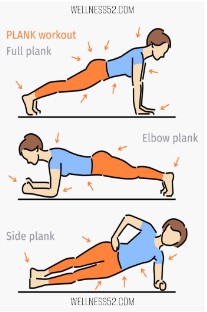 Benefits of doing planks regularly : 
Promotes A Healthy Posture
Engaging in planks helps to improve our posture and alleviate back pains from sitting too long or even standing incorrectly. It also helps strengthen our abs, relieves the tension in the neck and shoulders, and guards against muscle weakening caused by conditions like osteoarthritis.
Engaging in plank exercises can be a fantastic way to enhance your balance and improve body coordination. Planks require you to maintain a stable and aligned position, which in turn activates various muscle groups, including those responsible for balance.
Incorporating planks and its different variation (side planks, reverse planks, and resistance planks) as you advance can effectively strengthen your core and boost your energy levels. Yet, relying solely on planks might become Monotonous and lead to early abandonment. Therefore, it's crucial to maintain a consistent 'planking' routine within a broader regimen that includes varied exercises such as cardio and weight training. This approach ensures a well-rounded workout for your body, preventing core fatigue.
While not resembling traditional stretches, planks boost flexibility by lengthening hamstrings, the muscles in our upper leg, relieving tightness and enhance comfort. Planks also target foot arches and balls, promoting better balance and movement, while the side plank additionally encourages smoother body rotation through stretching side muscles.
Embarking on a regular plank routine not only relieves back discomfort by strengthening the core muscles that support your spine but also eases the burden on your backbone This grants you an upright and finely-tuned posture in every stride, stance, and seated position.
The article explores plank exercises, a versatile workout that strengthens the core and offers multiple benefits. Planks engage muscles for effective core strengthening, with instructions for execution. The benefits include better posture, reduced back pain, improved balance, flexibility, and stronger core. Consistency and variety in plank routines are vital, as they can alleviate back pain and improve posture.