BookDocActiv – Stay Active & Get Rewarded! Move!
BookDocActiv rewards active users with discounts and privileges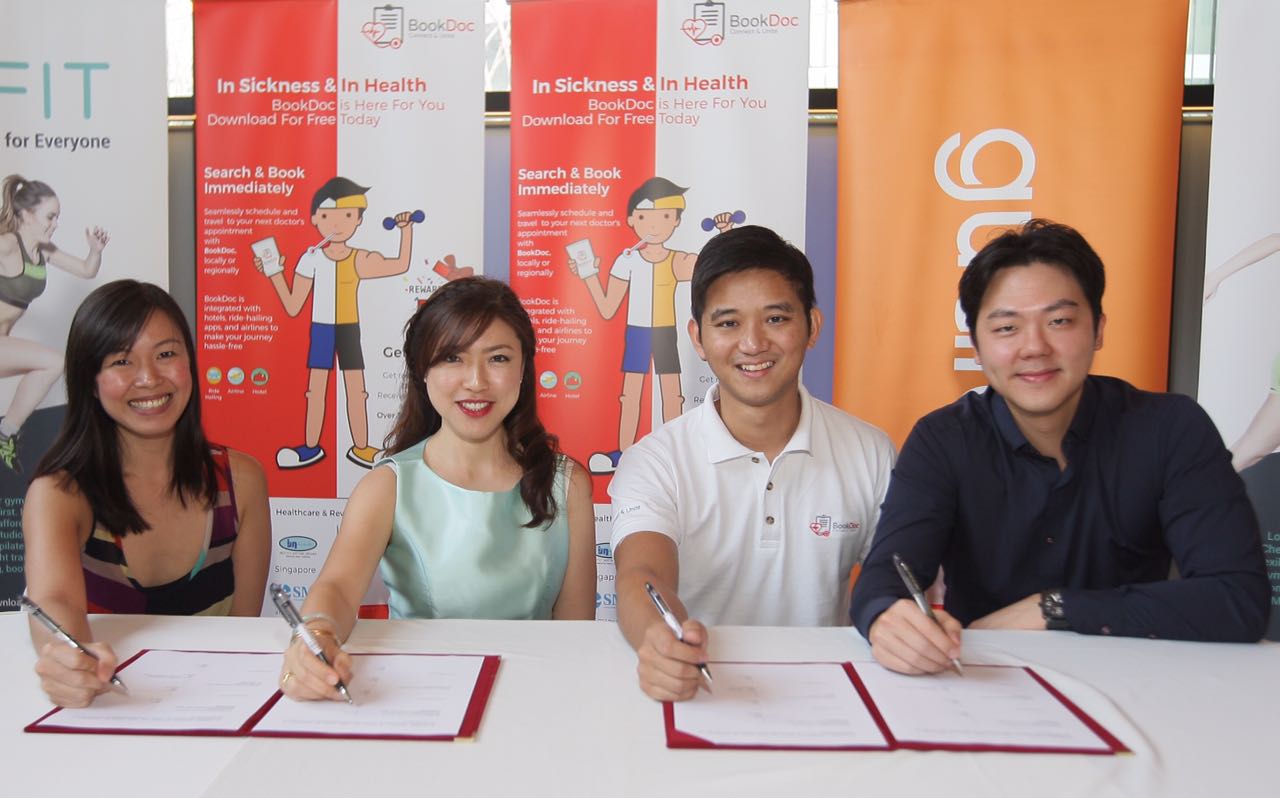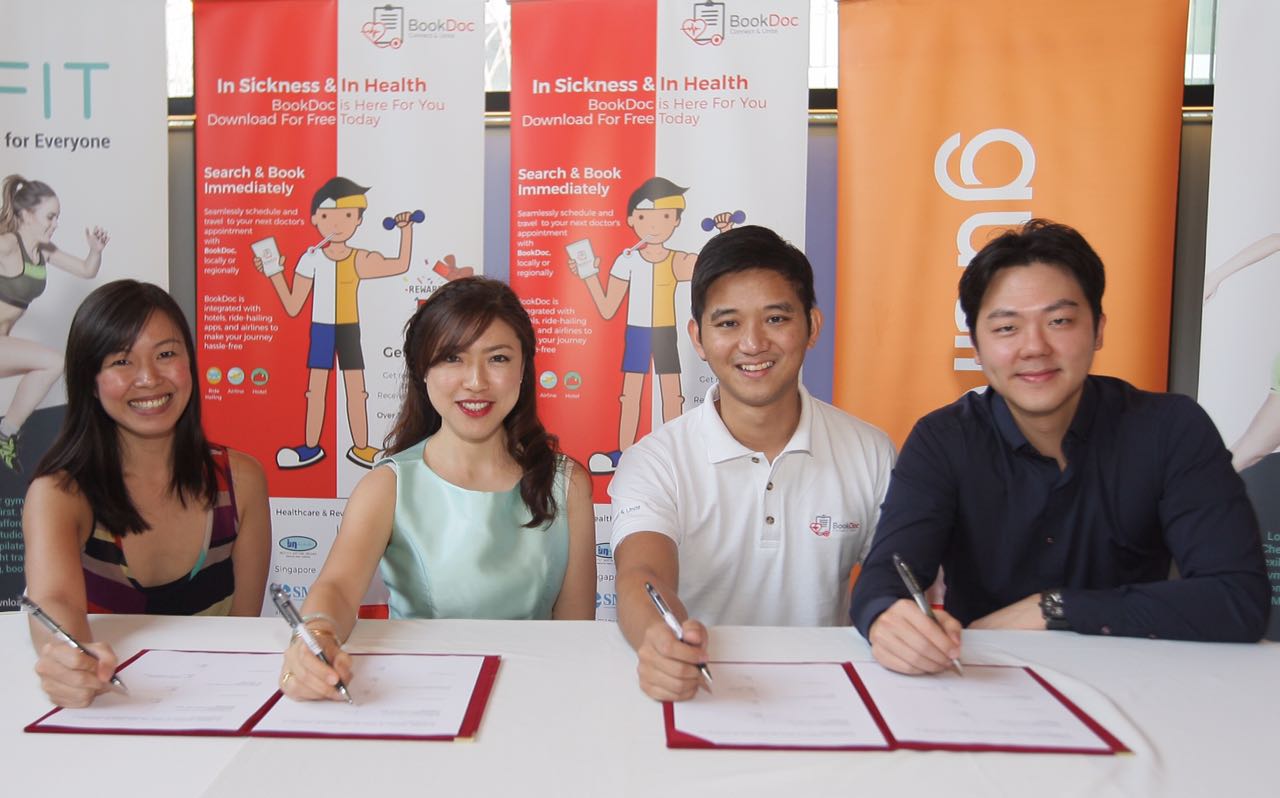 (Left) Shirley New, Senior Marketing Manager of Guardian, Annabelle Co-Martinent, Founder and Managing Director of La Juiceria, Dato Chevy Beh, Founder of BookDoc, Joel Neoh, Founder of KFIT.
SELANGOR, MALAYSIA – November 1, 2016 – BookDoc is proud to announce the official launch and rollout of its exciting new feature, BookDocActiv, together with Guardian, KFit, and La Juiceria. More partners will be revealed in stages, all with the well-being of the public in mind!
BookDocActiv rewards users for maintaining high level of activity. The new feature offers users discounts, from major retailers and service providers every month, for achieving average-daily-step thresholds, tiered according to Bronze, Silver, Gold and Platinum. The BookDocActiv feature is embedded in the "BookDoc" App which is downloadable for free on Apple App Store (for iOS) and Google Play Store (for Android), and syncs seamlessly with tracking Apps – Apple Health and S Health; and wearables – Fitbit and Jawbone.
"We are truly excited about this partnership with BookDocActiv. While awareness on healthy living is important, the rewards on BookDocActiv can serve as a motivation for users to maintain high standards of health and fitness. This aligns with KFit's vision of making fitness accessible to everyone, with the ultimate goal of building a healthier society," said Joel Neoh, Founder of KFit Group.
The new feature is a natural complement to BookDoc's existing search and book function for healthcare professionals, enabling BookDoc to become an integrated platform which caters to various aspects of health for its users. BookDoc believes that this initiative will help users kick-start healthy lifestyle changes and improve long-term wellness, in particular those who have not acquired these habits since youth. Rewards provide a much needed external incentive for habits like exercise, which may seem unappealing or difficult to develop on their own. This is an innovative carrot approach to being active.
"Guardian has always taken pride in being a health-led, health & beauty pharmacy. Guardian's movement for better health and overall wellness is an on-going initiative and is always looking out for innovative and relevant ways to reach its audience. Our partnership with BookDoc is an extension of these goals, creating synergy between users' fitness goals and our wide variety of health products for the other aspects of their life," stated Shirley New, Senior Marketing Manager of Guardian.
Guardian, KFit, and La Juiceria have stepped up to offer exclusive discounts to reward BookDocActiv users for adopting healthy habits and help create a fitness social movement. Guardian is Malaysia's largest health and beauty chain, with over 400 outlets. The Guardian brand name is widely recognized by Malaysian consumers and trusted for offering quality products at affordable prices for almost 50 years. KFit has, over the last year, created Asia Pacific's widest network of more than 5,000 gym and wellness partners in 10 cities across the region, making physical fitness accessible and convenient wherever BookDocActiv users travel. La Juiceria has revolutionized food and nutrition in Malaysia with its cold-pressed juice plans. It has 16 physical outlets in the country and is building a delivery system to bring complete nutrition direct to your doorstep. These partners work in conjunction with BookDoc to improve Activ users' health in every respect and wherever they are. Additional reward partners are available in 11 countries and territories across the region.
La Juiceria founder Annabelle Co-Martinent said "BookDoc's mission is to make professional health care and products available for everyone. Their goals are in line with La Juiceria's beliefs that everyone is entitled to live their best lives, and for that to happen, they need to be healthy to begin with. We totally adore this mobile app's features: from bringing convenience to the public from connecting to nearby doctors instantly to encouraging fit and active lifestyles in such an innovative way. It is an honour to be able to join forces with BookDoc in bringing more healthy options to the mass."
Activ represents BookDoc and its partners' commitment to the wellness of the general public, in addition to timely access to healthcare professionals for consultation and treatment. Exercise is an integral part of preventive care, reducing the short and long-term risks of developing diseases. Through this new feature, BookDoc hopes to help the nation stay healthy and reduce healthcare costs while saving money with rewards in the process.
"Addressing the public's health problems is at the core of BookDoc's mission," said BookDoc founder Dato' Chevy Beh. "Obesity rates in Malaysia have been increasing dangerously in recent years, and steps must be taken to address the attitudes of the public on health. BookDocActiv does so through positive reinforcement, and with a low cost of entry. We hope to begin a social fitness movement, bringing in more partners and users, and expand and innovate to encourage even more types of healthy behavior."
BookDocActiv is available now as part of the free BookDoc mobile application, on both iOS and Android. BookDoc has recently been awarded with Frost and Sullivan's 2016 Innovation Excellence Award in Mobile Healthcare Technology, and has established partnerships with Grab, Uber, and Agoda for health travellers, locally & abroad. In addition, BookDoc has working relationships with the Malaysian Ministry of Tourism and Social Security of Malaysia (SOCSO). To learn more about BookDocActiv and how to get rewarded for your health, go to www.bookdoc.com
About BookDoc
BookDoc, with presence in Malaysia, Singapore, Hong Kong and Thailand, is an online platform that operates across the healthcare continuum connecting patients to healthcare professionals anytime and anywhere, while incentivising all to stay active.
BookDochas established an integrated eco-system for users to search, book and reach their healthcare professionals in a hassle–free manner. It incorporates all the online services that users may need for their consultations locally and abroad: from navigation to accommodation, land transport and even air travel. Through BookDocActiv, it rewards users for staying active by partnering a growing number of major lifestyle retailers and services that offer users discounts for achieving reward tiers based on activity level.
The company is backed by a diverse group of investors from entrepreneurs to seasoned healthcare and insurance professionals, banker, regulators as well as ICT professionals. It has made records in achieving the highest pre-seed and seed valuation in Asia Technology Start-up history. BookDoc is available at www.bookdoc.com and can also be downloaded via App Store and Google Play Store.
FOR MORE INFORMATION, PLEASE CONTACT:
Name : Ms. Valerie Voon
Tel : +6019-336 6758
Email : valerievoon@bookdoc.com