In the ever-evolving landscape of corporate well-being, mental health has emerged as a pivotal focal point, demanding attention and care. Recognizing this imperative, BookDoc recently organized a transformative mental health webinar for Beiersdorf, a forward-thinking company committed to the holistic wellness of its employees. This insightful event, conducted by the esteemed mental health speaker and BookDoc partner, Dr. Aw Tsung Wai, shed light on the significance of mental health awareness in the workplace.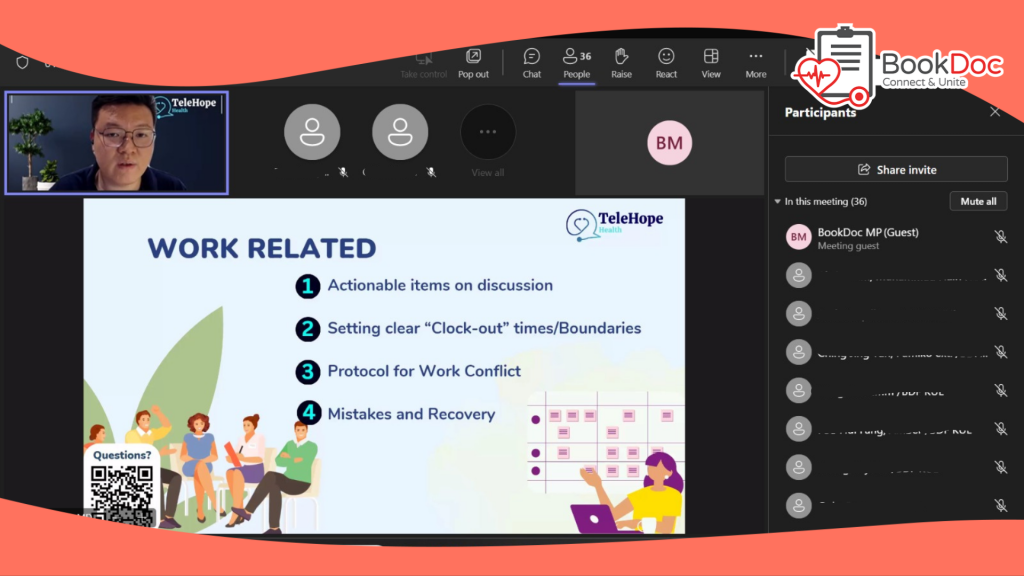 In today's fast-paced world, where stress and pressure often permeate professional environments, taking proactive measures to prioritize mental health has become paramount. Beiersdorf's initiative to host a mental health webinar serves as a beacon of hope, highlighting the company's dedication to nurturing a positive and supportive work culture.
Why Mental Health Webinars?
Mental health webinars play a pivotal role in educating employees, fostering awareness, and destigmatizing mental health issues. Such initiatives provide a safe space for employees to engage in conversations about their mental well-being, learn coping strategies, and access valuable resources.
Gaining Wisdom from a Mental Health Expert
Dr. Aw Tsung Wai, as BookDoc's partner mental health speaker, brought a wealth of knowledge and compassion to Beiersdorf's webinar. His expertise illuminated the nuances of mental health, dispelling myths and misconceptions. Through engaging discussions, Dr. Aw Tsung Wai empowered attendees to recognize signs of mental distress, seek help when needed, and embrace self-care practices.
Corporate Wellness Solutions: A Holistic Approach
Beiersdorf's collaboration with BookDoc exemplifies the company's commitment to comprehensive corporate wellness solutions. Mental health webinars, as a fundamental component of these initiatives, not only educate employees but also foster a sense of community and support within the workplace. By investing in the mental well-being of their workforce, companies like Beiersdorf are cultivating environments where employees feel valued, understood, and motivated.
Conclusion
In an era where mental health concerns are prevalent, initiatives like Beiersdorf's mental health webinar serve as beacons of hope, illuminating the path toward a more compassionate and understanding corporate world. By embracing the importance of mental health education through webinars and other initiatives, companies are not just investing in their employees' well-being but also paving the way for a brighter, healthier, and more resilient future.
If you share our dedication to fostering a thriving workplace by promoting wellness, let's talk!
Get in touch with us today to discover the customized corporate wellness initiatives we offer.
Let's embark on a journey towards well-being, one employee at a time. 🌱💚

📞 Contact us
Jack (http://wa.me/60162036211)
Jowynna (http://wa.me/601156366815)

For additional details, please visit the following link:

www.bookdoc.com/services/corporate-wellness-program