In a collaborative effort to promote health, fitness, and community engagement, the Department of Occupational Safety & Health Malaysia (DOSH) partnered once again with BookDoc for the second consecutive year to organise DOSH 1648K Virtual Steps Challenge, not only to encourage physical activity but also to nurture a profound sense of unity and well-being within the community.
DOSH1648K Challenge: Stepping Towards a Healthier Future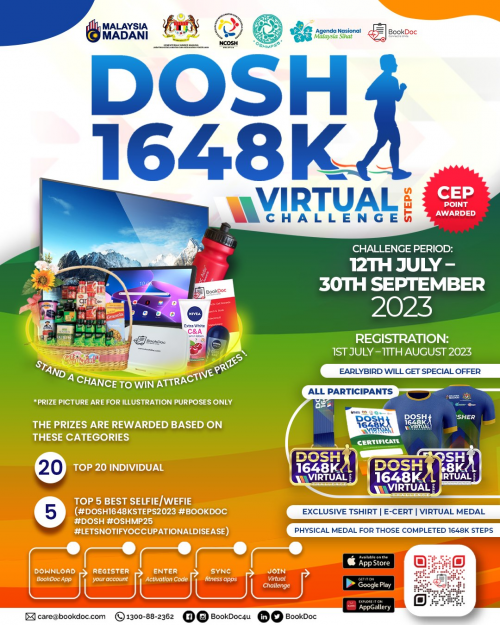 The DOSH 1648K Virtual Steps Challenge kicked off with a grand opening ceremony on 12th July 12th 2023 and ran until September 30th, urging participants to embark on a fitness journey. This challenge was open to Jabatan Keselamatan dan Kesihatan Pekerjaan (JKKP) staff, industry professionals, and the general public, drawing an impressive total of 907 JKKP staff and 870 enthusiastic public participants.
The participants' dedication was met with exciting incentives as BookDoc and DOSH offered cash prizes totalling up to RM 25,000. The challenge witnessed outstanding enthusiasm, with a total of 45 winners emerging from the participants, showcasing the dedication and determination of the community towards their health goals.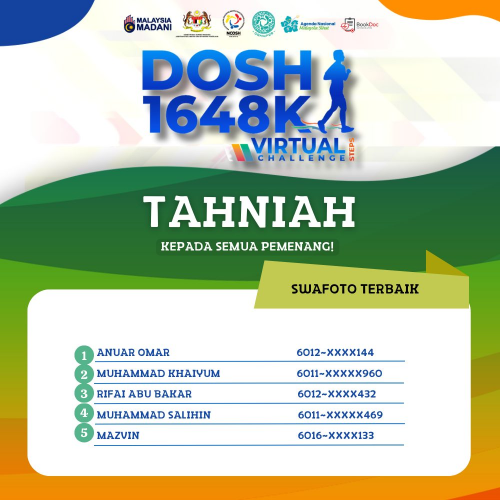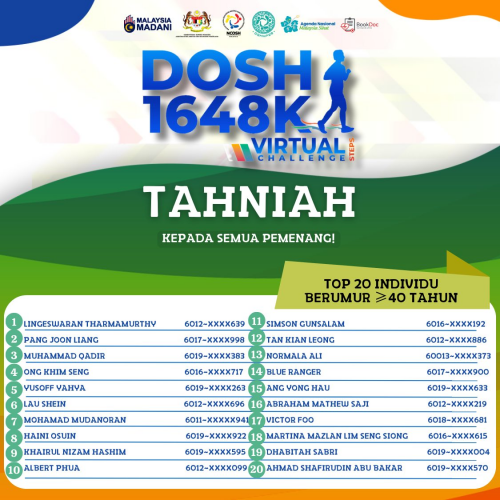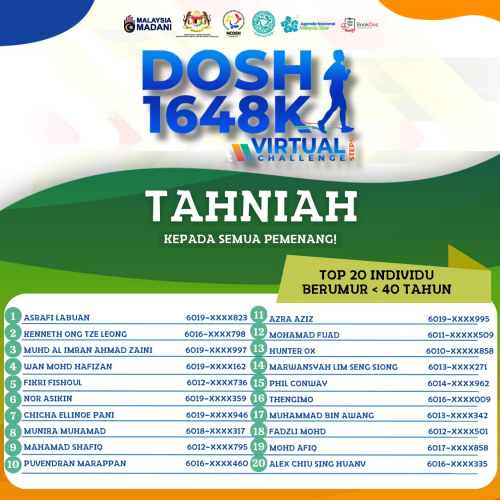 Karnival Jom Sihat 2023: A Vibrant Celebration of Health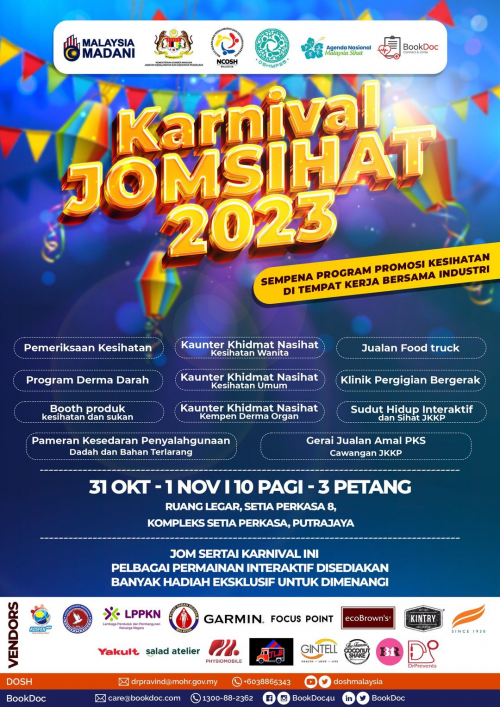 To celebrate the successful completion of the DOSH 1648K Virtual Steps Challenge, BookDoc organized the Karnival Jom Sihat 2023 in collaboration with DOSH, held from 31st October to 1st November 2023. This carnival-style event transformed into a health enthusiast's paradise, bringing together government agencies and several private companies, including esteemed names such as Salad Atelier, Physiomobile, Garmin, Dr. Prevents, Focus Points, Baskin Robbins, Kintry Sdn Bhd, Yakult, Himalaya, Gintell, Nestle, Lembaga Penduduk dan Pembangunan Keluarga Negara (LPPKN), Agensi Antidadah Kebangsaan (AADK), Pusat Darah Negara, Klinik Pergigian Toothie Tales, Klinik Pergigian Nour, Klinik Pergigian Dr. Smile, and the Ministry of Health Malaysia.
Attendees were greeted with a diverse range of health-related activities, products, and services, fostering awareness about the importance of overall well-being. The event also featured health screening, nutrition consultations, body composition analysis, and dental services, ensuring that attendees received holistic health services.
The carnival was inaugurated by YB Datuk Ts. Mustapha Sakmud, Deputy Human Resources Minister. One of the significant achievements of the Karnival Jom Sihat 2023 was the impactful blood donation drive by Pusat Darah Negara, where an impressive 144 bags of blood were collected. This act of giving back to the community highlighted the event's purpose of not only promoting individual health but also contributing to the greater good.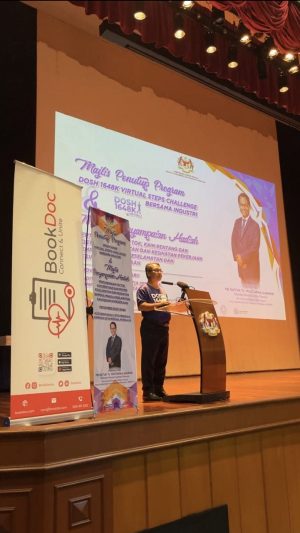 In summary, BookDoc and DOSH's collaborative efforts in organizing the DOSH1648K Challenge and Karnival Jom Sihat 2023 exemplify their dedication to promoting a healthier, happier community. By encouraging physical activity, providing valuable health resources, and fostering a sense of community spirit, these events have undoubtedly made a lasting impact on the lives of participants and attendees alike. As we celebrate this successful collaboration, it becomes evident that initiatives like these play a vital role in shaping a healthier, more united society. Here's to more years of promoting wellness, unity, and the spirit of giving back!
If you share our enthusiasm for organizing a health carnival or virtual run, whether it's for the community or your company, let's talk! Reach out to us today to discover more about our customised wellness programs tailored to your needs.

 Contact us
Jack (http://wa.me/60162036211)
Jowynna (http://wa.me/601156366815)
For more information: please visit this link https://www.bookdoc.com/services/corporate-wellness-program